Articles
Robert Rogers - Mon, Nov 18, 19
The kitchen is usually the most lived-in part of your home.  It is not just a place to cook.  It is a place where your family gathers to discuss the events of the day.  A place where friends gather during parties to talk.  It's just a great place to hang out.  As such, you will want to make the kitchen as inviting as possible.  One of the best ways to increase the attractiveness of your kitchen is to create an eye-popping backsplash above all counter surfaces.  There is, however, a more practical purpose for a backsplash.  The process of cooking involves oils...
Robert Rogers - Mon, Nov 04, 19
Selecting a Construction Company In the last blog, we discussed the design of your new backyard oasis.  If you were lucky enough to be able to find a company that you were confident in doing the design and could also build the design, then you are in luck.  No need to go out and find a pool contractor, but if you were not, then the search is on for a pool contractor.  As with your search for a company to design your pool, you will have to do your due diligence in this area too.  The first place to search is...
Robert Rogers - Sat, Oct 19, 19
Designing your backyard oasis can seem like a donating task, so as with other donating tasks, you should break the larger task into smaller ones.
Robert Rogers - Fri, Oct 11, 19
In verbal terms, a mosaic is said to be a decorative art design, made up of ceramic, glass or stone pieces. These pieces are arranged in a definite pattern to create a unique design or image.  Although ceramic and glass decorative art designs are typically used in swimming pools and spas, it is becoming more and more popular to add these designs to both indoor and outdoor bathrooms.
Robert Rogers - Fri, Sep 13, 19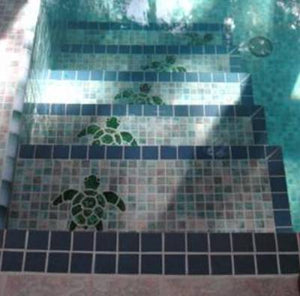 Installing a mosaic in your pool is the best and greatest addition you can add to increase its appeal and value. It adds a whole new dimension to your pool that will allow you to have fun and entertain family and friends.  Installing mosaics properly makes them last longer and require less maintenance. This requires proper planning and preparation of the pool to get the most out of your mosaic. We're going to take a look at why you need to install mosaics in your pool and the most important tips for adding mosaics. Why you need to install Mosaics in your pool? Using...
---