Mosaics: An added appeal to any pool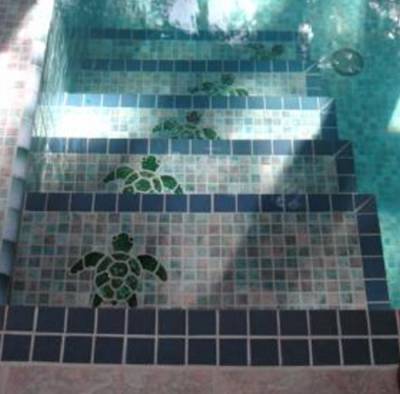 Installing a mosaic in your pool is the best and greatest addition you can add to increase its appeal and value. It adds a whole new dimension to your pool that will allow you to have fun and entertain family and friends.  Installing mosaics properly makes them last longer and require less maintenance. This requires proper planning and preparation of the pool to get the most out of your mosaic.
We're going to take a look at why you need to install mosaics in your pool and the most important tips for adding mosaics.
Why you need to install Mosaics in your pool?
Using mosaic tiles in swimming pools is one of the best ways to create an appealing and fashionable look in your pool. Mosaic tiles not only cover the pool's floor and walls but also gives an attractive look to your swimming pool. It is, in fact, a frequent and fashionable option that one can choose as a finishing solution after designing the best-looking pool in town. When installing mosaics it is important to take a look at the following tips. These will help with making a better-informed decision.
Aesthetics: Installing mosaic pool tiles is a great option to provide your pool and surrounding space with a clean and cohesive look. Mosaic tiles usually come in a variety of colors ranging from neutral tones to vibrant blues and greens from where you can easily choose the best combination. It provides the flexibility to customize the design of your pool and the surrounding space quite easily.
Safety: Installing mosaic tiles to your pool adds a great measure of safety in the pool. Mosaic pool tiles usually offer a non-slip surface which is more important at the time of getting in and out of the pool. Moreover, they look great while at the same time, making you feel safer while getting in and out of your pool.
Maintenance: Installing mosaic tiles in your pool is a great way to maintain your pool for a longer time. Mosaic tiles with proper installation, provide an additional sealant to your pool that prevents it from leaks and cracks from the start.
What colors should you choose?
Choosing mosaic tiles for your pool is very important in terms of various aspects. The color of the mosaic tiles not only determines the color of the water in the pool but also adds a greater aesthetic appeal to your pool as well. Moreover, there are certainly other factors that determine the color of your pool, and those are depth of water, origin or light in the pool, surroundings of your pool, location, and sources of lighting used.
The white color of mosaic tiles is being considered as one of the major options for tiling pools and the reason is the easy achievement of various effects like the luminosity of the sun in collaboration with water and much more that offers the look of Caribbean Sea to your pool. It means that you can enjoy swimming across clean and clear blue water just like in the Caribbean. There are four different shades of white mosaic tiles that are being used for tiling pools and they are:
Carrara: It is an anti-slip matte mosaic with a marble effect.
Perla: It is a white mosaic with an iridescent effect
Diamond: It is a mixture of white mosaics.
2545-A: It is a solid and striking flat white mosaic.
Important things to be aware of with mosaics
Movement; this could be one of the major issues caused by changes in weather, which can cause the tiles to pop off. During the warmer or cooler weather, we know that the swimming pool and its nearby areas (including the ground around the pool) naturally expand and contract.
Glass Mosaics
Many professionals will inform you that it is very tricky to install Glass Mosaics. It is advisable to consult an experienced and qualified tradesman before installing glass mosaics or having a professional install them for you. You need to apply the adhesive first around the pool wall with the help of a notched trowel and press the tile firmly with glue and also apply the grout.
Most of the pool owners and tilers will inform you that the applied glue will always push from the wall joints. This shows that it is very difficult during the joint grouting process and leaves an unclean residue of grey glue. This appears moldy or dirty even on the newly applied grout. However, there are simple and effective alternative methods for this process.
The glass mosaics are created with an additive combination that turns the grout into a glue format. You can make use of the two essential products to grout and glue your pool titles by using grout and glass mosaic additive.
Dot Mounted Mosaics
Within recent years, there have been numerous innovative changes developed to reduce this problem by utilizing pool mosaic assembling. Dot-mounted mosaics are leading the ceramic mosaics industry. The mesh sheets are used to glue the small tiles for easy and quick installation. The mesh sheet holds the tiles with the help of glue.
The adhesive glue is mostly used on the mesh area and less on your tiles, which start to pop off. However, the dot-mounted technology, allows the tiles to get the adhesive or glue into the backside of your pool tile. Through this, you can gain greater flexibility and bedding them towards the adhesive and manipulate the tile joints a lot easier.
Swimming Pool Tiles
It is not that any sort of tiles can be used when installing mosaics in your swimming pool. If you use the wrong tile it could cause problems that may either damage your pool or cause you injury. It is advisable not to use ceramic mosaics in your swimming pool. Even porcelain mosaics are much stronger when compared to other tiles and can be used for swimming pools safely.
Most often, glass mosaic tiles are frequently used for pools rather than ceramic or porcelain tiles. When compared with porcelain tiles (which is an entry-level mosaic), the glass tiles are very expensive but are a lot more beautiful and can create a much more aesthetically pleasing scene. If you prefer to pay the premium amount then you can opt for glass tile mosaic or glass tiles.
---
Share this post
---
---