Swimming Pool Mosaics for Home Improvement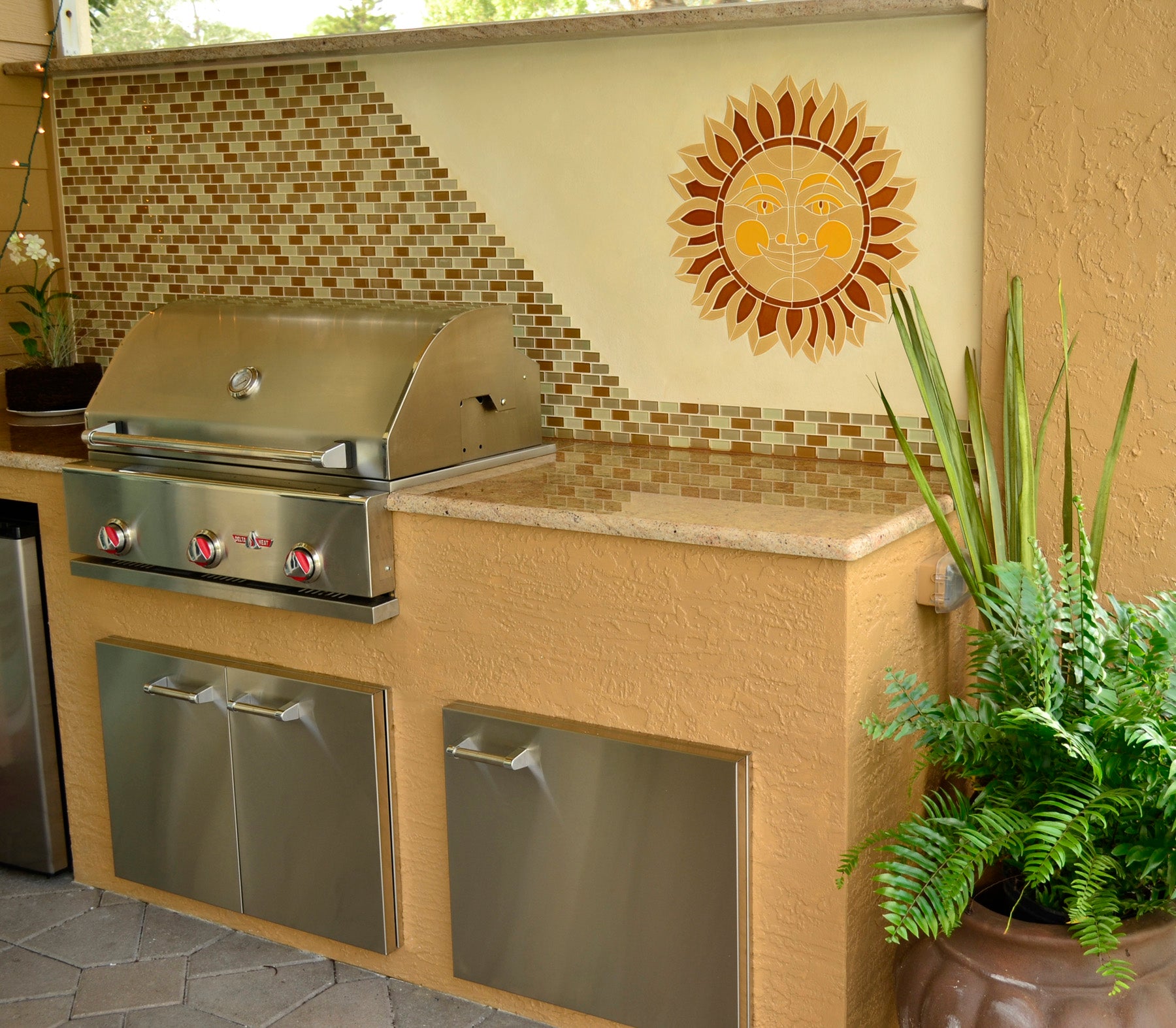 A beautiful ceramic tile mosaic can make your swimming pool stand out with its infinite designs and color combinations. It is difficult not to fall in love with this gorgeous design option. The longer you enjoy the view of your home oasis, the more you would wonder if it's possible to use the same design material for other locations in your home. Fortunately, ceramic tile mosaics will not only work in other areas of your abode but can do wonders as well. Here are the top locations in your home where you can install ceramic mosaics to achieve the best result for your next home improvement project.
Kitchen Backsplash
The ceramic tile mosaic is a popular design option for kitchen backsplashes and it's easy to see why homeowners prefer it. A beautiful mosaic behind the sink and stove can turn the boring area into a focal point. It gives beauty and value to the most used area in your home. The ceramic tile is the answer to achieving that elegant, durable, and easy-to-maintain backsplash that you can enjoy for years. If you're planning to sell your home, the kitchen home improvement project is something that you should consider doing to sell your home quicker and at a higher rate. A beautiful backsplash can make all the difference when it comes to transforming your kitchen which makes it a worthy investment.
Kitchen Sink
It's practically easy to let your imagination run free when it comes to designing your sink with ceramic tiles. Your kitchen sink can serve as an empty canvas where you can explore design ideas and apply your creativity. Considering that there are numerous designs and patterns that you can select from, the possibilities in creating that sink that your family will love are endless. With ceramic tile mosaic, you can say goodbye to your dull kitchen sink. Washing dishes can be a boring chore but if you have a vibrant pattern in your sink, you will be surprised how the task will become lighter and easier to accomplish.
Kitchen Island
An island is one of the most important features in a kitchen for it provides a separate workstation that's necessary both for efficiency and comfort while cooking. It is where we do most of the kitchen work including chopping ingredients, kneading dough, preparing meals, and more. A ceramic tile is a perfect option for our islands because it is made of scratch-resistant material, it does not attract dust, and it is water-resistant. Aside from its durability, it also offers endless design options that can fit your style and budget.
Bar Top
A home bar is an interior feature that can serve as a gathering place where you can entertain your guests. If you find yourself frequently inviting friends to your home, then you have to consider choosing ceramic tiles as material for your bar top. A beautifully designed bar top can create a feeling of warmth in your guests. It conveys the message that you like to entertain and that you have created a place to welcome them to enjoy a good time. Storing drinks in your home bar is of utmost importance but it is the ambiance that can make the experience worthwhile.
Table Top
One of the most effective ways to boost curb appeal is to add a garden that can make your property attractive when viewed from the street. Gardens will not be complete without outdoor seating and a table where your family and guests can dine while enjoying the view. Ceramic tiles are not only limited to your pool area tabletops because you can use the same material for your garden tables as well. With ceramic tile, you will not have to worry about the sun and rain that may damage your outdoor tables. This design material is unaffected by water, so, you can trust that you will have a beautiful outdoor table that will not get damaged or even fade.
Door Surround
As they all say, there is no such thing as, a 'second first impression.' There is only one first impression and it lasts. This is the reason why front doors are important. It is the first thing that your guests will see before they can even lay their eyes and appreciate the interior of your home. If you find your style and creativity trapped with your limited door option, then you can take advantage of the door surround to make up for it. The options are vast when it comes to selecting the perfect design and texture for your door surround ceramic tile.
Accent Wall
An accent wall is a focal point where you can express yourself and create a design statement. The beauty of mosaics is that they can produce a pattern by arranging together pieces that can help form your desired design statement. With this design option, you will be able to tie your whole interior design together to achieve unity and consistency.
Bathroom Space
A bathroom is a place where we start and end our day. Improving this space will not only increase the value of the property but most importantly, will also enhance the well-being of your family. The more attractive the bathroom space is, the more your family would want to use it. Installing ceramic tile mosaic to cover the walls, floor, and even tub can create unity in the bathroom and the pool area. It will give you the feeling that your pool has been extended somehow.
Shower Wall
Taking a shower is an easy way to relieve stress and ease muscle tension. If you feel that you're tired of your outdated shower walls, then it's a sign that you need to make your walls look brand new again. What better way to update your shower walls than covering them with a soothing and creative mosaic? Whichever design you choose, you will surely have an ambient shower that can render a gently calming effect whenever you use it.
Fireplace Surrounds
Even in this modern time and age, a fireplace still serves as an indispensable feature in home interiors. Aside from aesthetic reasons, fireplaces are installed to provide natural warmth, especially during the winter season. If you prefer to make your fireplace or hearth the focal point of your living room, then ceramic tile mosaic is a design option that you must consider. It offers a vast design style that you can choose from and it also is durable for it can withstand heat. Try to match your fireplace surrounds with the design of your hearth and you will create an area that your family and guests will adore.
---
Share this post
---
---