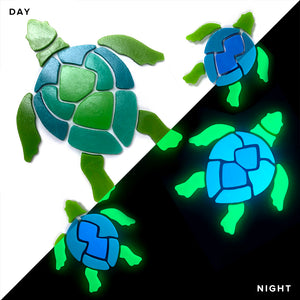 Swimming Turtle Glow in the Dark Swimming Pool Mosaic - Family
Product Information:
Don't swim in the dark again.  When you take a night swim, you will be able to enjoy the soft glow of your Swimming Turtle Glow in the Dark Swimming Pool Mosaic.  Experience the serenity of the soft glow of your mosaics as you float in your pool at night.  During the day, enjoy the playfulness of each mosaic.  As the name implies, the primary feature of the Glow Mosaics is that they glow at night.  For best viewing results at night, keep ambient light to a minimum. This Family consist of two 6" x 6", one 8" x 7" and one 11" x 12" Swimming Turtles.
Product Specifications:
Hand-crafted from Polyester Resin
Pool and Spa chemical resistant
Mesh Mounted; ready for installation
Approximately 3/8" thick
Guaranteed for the Life of the Application
Installation instructions are included with your order
NOTE: The number of pieces in each mosaic may vary based on the size selected. We make every effort to ensure a consistent glow throughout each mosaic, but the day color and night glow may differ slightly from mosaic to mosaic.
Shade and size variations are inherent characteristics in all mosaic products.
Please Inspect Products Before Installation - Use Constitutes Acceptance.
---
We Also Recommend