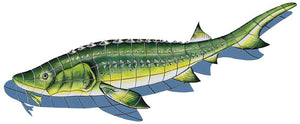 Sturgeon Shadow
Product Information:
The Distinctive Mosaic Sturgeon is an anadromous fish, meaning that it is born  in freshwater, then migrate to the sea and back again to freshwater to spawn.  Now all you have to do is decide if your Distinctive Mosaic Sturgeon is coming or going.  By adding a shadow, your Distinctive Mosaic Sturgeon appears as though it is swimming above the bottom of your pool.
Product Specifications:
Hand Carved, Hand Painted Mosaic
Frost Proof 
Mesh Mounted; Ready for Installation
Approximately 3/8" Thick
Guaranteed for the Life of the Application
NOTE: Number of pieces in the mosaic may vary based on size selected. Largest size mosaic is pictured.
Shade and size variations are inherent characteristics in all mosaic products.
Please Inspect Products Prior to Installation - Use Constitutes Acceptance.