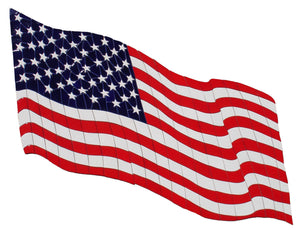 American Flag
Product Information:
It has always been a proud tradition to fly "Old Glory" from a pole in your yard or attached to the house.  Now you can show the same pride by installing our Distinctive Mosaic American Flag in your swimming pool.  It will make your 4th. of July swim party so much more patriotic.  

Product Specifications:
Hand Carved, Hand Painted Mosaic
Frost Proof 
Mesh Mounted; Ready for Installation
Approximately 3/8" Thick
Guaranteed for the Life of the Application
NOTE: Number of pieces in the mosaic may vary based on size selected. Largest size mosaic is pictured.
Shade and size variations are inherent characteristics in all mosaic products.
Please Inspect Products Prior to Installation - Use Constitutes Acceptance.