The Wrights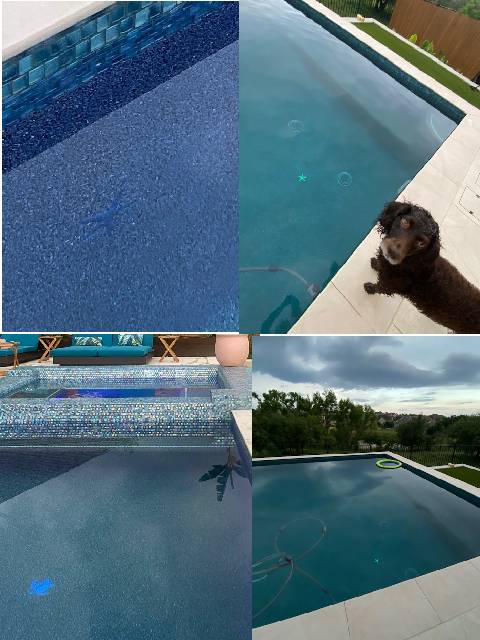 Good morning, Bob :)
Sorry for the delay in sending pictures. I hope these help. I have included ones from very near sunset/with clouds and ones from early morning sunlight. Feel free to pick and choose. 
We were sort of going for a more refined look and less of a party-in-Margaritaville vibe, but our children insisted on a few fun touches hence 2 starfish and a turtle. We placed one starfish on the wall and one 6 ft down on the floor of the deep end. Interesting fact. On the wall, you cannot see the starfish at all when outside the pool! But under the water with goggles on it shines incredibly bright! SO if people wanted to hide their fun touches for a more refined look, but keep it fun for kids with goggles this would be the way to go. And if you want to enjoy your starfish out of the water, don't put them on the walls! In these pictures, the turtle is about 3.5 feet deep the bright starfish is 6 ft deep and the wall starfish is about 1.5 feet down. 
Just in case anyone is curious about how these match with the pebble or the tile etc. we used Pebble Sheen Prism blue and Aqua Bella Constellations Leo. I think it matches and goes well.  The green of the starfish certainly pops more than the blue of the turtle though.  
Best Regards,
Sarah Wright
This customer ordered the Fusion Mosaics.
---
Share this post
---
---
---
0 comment