Turtle and Dolphin Swimming Pool Mosaic Design Ideas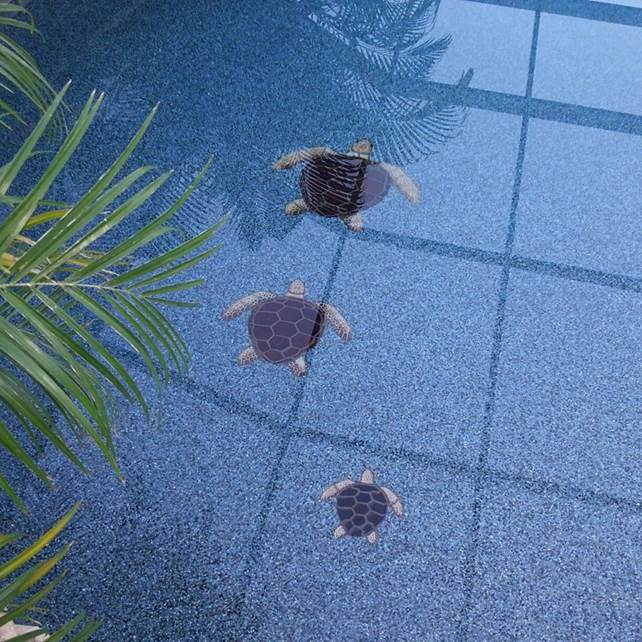 Over the past 20 years, many customers have asked me which mosaics to put in their pool.  On the surface, it sounds as though I am being asked to select the mosaics for them, but I think it is more of an expression of frustration.  In this article, I will showcase and explain different designs that customers have created for their pools using Turtles and Dolphins.
Turtle Family
One of the most popular designs includes a Family of Turtles. As you can see from the image above, this pool owner installed 2 Baby Turtles, on each of the steps and 2 adults, one Medium and one Larger, to give the illusion of the parents leading their children out to the deep end of the pool.  By placing the turtles at different depths, they can be used as a guide for the kids as to how far out into the pool they are permitted to go.  You also might note that the turtles are not in a straight line.  Staggering the turtles gives a look one would most likely see in nature.  Another advantage of this design is that by using a few smaller mosaics and then stretching them out over a distance, the design will look much larger than if just one or two larger mosaics were used.  This design also gives the appearance of motion; the family is swimming to the deep end.
To add more realism, get Turtles with a Shadow.  This pool owner chose to put their Shadow Turtles on the bottom only.  They used one each of a Small, Medium, and Large Shadow Turtles.  As you can see in the above photo, the Turtles are not in a straight line but are staggered, giving a more natural look.  Unfortunately, Baby Turtles that go on the steps do not come with shadows.  
Not all Turtle designs have to be a complete family.  One pool owner used several Baby Turtles scattered randomly on their rather large swim-out.  Others use the Baby Turtles as just a way to mark the steps so that people can easily where each step.
One of the newer Turtle Designs is done in an old Polynesian Tribal style.  The image below shows a Large Tribal Turtle with several Baby Tribal Turtles on the pool's step.  The Tribal Design evokes the ancient tattoos of the Polynesians who used the tattoos as signs to express their identity and personality.  You can do the same in your pool.
Dolphins
Dolphins provide a fun, simple way to add movement to your pool.  A Shadowed Dolphin adds even more movement.  One of the more popular designs is with three Shadow Dolphins swimming around a Beach Ball.
. 
If done tastefully, one Shadow Dolphin can provide a simple, but very beautiful look to your pool. If you are going to do just one Shadow Dolphin, then I would suggest the largest one. 
For even more motion, using a Mother and Baby Dolphin Pair would still offer a simple, clean design.   
Expanding on this theme, try combining a Family of Turtles with a couple of Dolphins.  This design will extend the visual imagery to a larger part of your pool.
As with the Polynesian Tribal Turtles, there are also Polynesian Tribal Dolphins.   Again, this Polynesian Tribal Dolphin evokes the old tradition of using tattoos as signs to express their identity and personality.  By using the Polynesian Tribal Sea Life mosaics, you too can express your own identity and personality in your pool.  Be bold! Express yourself! 
Think of your pool as a "painter's canvas", a raw surface wanting, no need, your creativity to bring your swimming experience for your entire family to life.  The examples I have given above deal only with Turtles and Dolphins.  There are many other "Pool Pals" from which to choose.  So, go ahead and create!
---
Share this post
---
---